Creating visually interesting social media content that attracts followers from your target audience is a struggle. To post or not to post, as we like to put it. In this blog we are going to be discussing our #ColorsofKnoxville Pantone series. We will also be discussing some tips on developing campaigns for your own social media platforms. This photo series has been both fun for us to make as content creators and also has been well received by our audience on social media.
Now you may be asking yourself, what is this Pantone you guys keep mentioning? Pantone is actually a company based out of Carlstadt, New Jersey. They utilize their very own Pantone Matching System (also called PMS), which is a color reproduction system that makes colors for print production that cannot be achieved through printing in CMYK. Pantone colors are typically used for spot color in printing, which means that the color requires its own printing plate. For designers, Pantone is everything. Most of us have Pantone Formula Guides or at least some Pantone chips of our favorite out-of-this-world colors at our desk.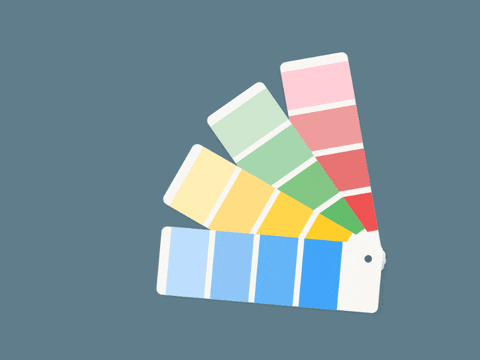 Now you're thinking, "we get it, but how do these totally radical colors and printing techniques match up to social media?". Well, Pantone color chips have created quite a trend within the design community on social media. Content creators seem to love to pull out their chips and put them next to just about everything. From sunsets, to the varying shades of coffee, people love to match their Pantone colors to everyday objects. For KGH, we were thinking of ways to tone up our social media (bad pun, sorry folks). Not only were we already aware of the Pantone trend, but we have had our sights set on growing our own local following across social media after realizing that many of our fans are national. Creating a color story across Knoxville was a creative and fun way to combine those two conversations into one universal campaign.
For us, this campaign helped connect two of our target audiences (locals and creatives) to our brand. Developing your own campaign starts with research. Whether your targeting millennials, baby boomers, other businesses, pizza consumers or coffee junkies, it all starts with research. Find out what your audience likes and what they want to see on their feeds. Also, research which social media platforms would be the best fit to reach your target audience. The next step is to set goals. Setting goals will give you a long term vision for your brand and the short term motivation to achieve what you have set forth. After you know where and why you're posting, figure out what you've posted in the past and what you want to be focusing on in the future? The more you can plan out your content, the easier it is to stay on top of. The last step is one that we think is the most important and that's consistency. Be consistent in the frequency, timing, color, tone, and customer engagement of your social media.
Give us a shout at contact@knoxvillegraphichouse.com to set up a meeting if you are interested in having us managing your business social media accounts and strategies campaigns. You can also continue to catch our ever-expanding #ColorsofKnoxville series by following our social media outlets (and don't forget to check out the gallery below for a few of our favorite snaps)!
Follow us on Instagram, Twitter, Facebook, and LinkedIn for more updates, blog posts, and other fun times.
#color #murals #knoxvilletennessee #colorsofknoxville #pantone #printing #socialmedia #campaign #contentplan #socialmediacontent #create #creationm